Pricing and Requirements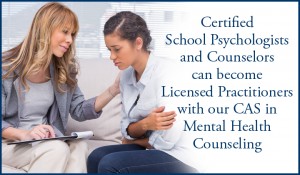 Affordable Pricing: Your complete Certificate of Advance Study in Mental Health Counseling costs $7,470.  Only $1,245 per 3-credit course!
Program Description
Alfred University offers a Certificate of Advanced Study (CAS) in Mental Health Counseling. The Certificate is designed to be a "bridge program" for individuals who have already earned a master's degree in counseling or psychology, but do not meet the required coursework and experience for mental health licensure.
Eligible Degrees are:
Master's in School Counseling
Master's Community-Agency Counseling
Master's College Counseling/College Student Development
Master's in School Psychology
Master's in Applied Psychology
General Counseling Degrees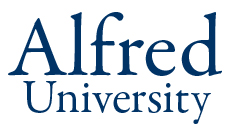 Individuals who successfully complete this approved program meet the requirements that make them eligible for the Licensed Mental Health Counselor (LMHC) credential in New York State.
The 18-credit CASMHC consists of 4 classroom courses (12 credits) and 6 credits of internship. The internship must be done in a clinical setting and consists of 600-hours on fieldwork including 240-hours of direct client service. School-based Mental Health internships are extremely rare so prospective students should expect to complete their internships outside of a school setting.  Students may begin the internship after they have completed the first two courses and they secure an appropriate internship placement.     
In addition to the successful completion of the program, students must complete the following post degree requirements before LMHC license can be obtained:
In addition to the successful completion of the program, students must complete the following post degree requirements before LMHC license can be obtained:
• Passing the National Board of Certified Counselor (NBCC) examination or the Certified Mental Health Counselor (CMHC) examination, both of which are administered by the NBCC.
• Completion of 3,000 additional hours of mental health counseling experience under the supervision of a licensed mental health counselor. This is NOT an additional internship and does not require additional tuition.  This is on the job experience and equates to approximately 2 years of post-degree experience.
Application Requirements and Procedures
The following items are required as part of the application process:
Completed Alfred University Application for Graduate Study – 

Apply online

A $60 application fee (Click here to pay)
Two AU Applicant Evaluations forms, one of these must be completed by a supervisor of the applicant's work as a counselor, and the other may be completed by a second supervisor or another counseling professional who is familiar with the applicant's work as a counselor. The recommenders must use the special AU recommendation form designed for the CAS program, but may also attach letters if they so desire. Letters of recommendation alone are not acceptable. Please 

click here

 for an AU Applicant Evaluation forms

Cover letter / Resume

Official undergraduate and graduate transcripts

Interview with a faculty member

Personal Statement (

You must submit a written statement describing career goals and reasons for the chosen field of graduate study. Outline topics of special interest and also include relevant experience such as internships, co-ops, or other professional activities.)
Individuals who earned degrees that consisted of less than 48 credits may be required to complete additional coursework to bring them up to 60 credits in counseling training, in order to meet the NYS licensing requirements. This includes individuals who have 60 or more credits in education, but some of their coursework is in administration, special education, or other teaching areas. The coursework must be in counseling.

AU Downstate Counseling Program Alumni
Graduates of the Alfred University Downstate School Counseling program may complete an abbreviated application form that updates personal information and indicates that they are applying to the program. Once admitted to the program, they must again pay a $200 enrollment deposit that will be refunded once they complete the program. There are no other application materials required for AU Downstate Alumni.
Only Alfred Graduates who graduate PRIOR to February 1st, 2023 may use the Certificate of Advanced Study in Mental Health Counseling to achieve permanent certification in School Counseling.
Click here for the Abbreviated AU Downstate Alumni App

Students interested in applying should call CITE office for further information, 718-923-9333, or visit the Apply Now section of this website.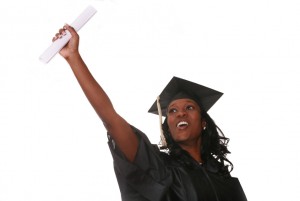 Application Deadline
The Certificate of Advanced Study in Mental Health Counseling is a cohort program which starts February 2024. The application deadline is January 15.  
Financial Information
The fee for each three-credit course is $1,245. The complete cost for the 18-credit Certificate of Advanced Study is $7,470. Financial aid is available through Alfred University. A $200 enrollment deposit is due upon acceptance into the program. This deposit is refundable upon successful completion of the program.
Convenient Schedule
Courses are offered on Saturdays and/or Sundays during the school year. This program does require one trip to Alfred in the summer, however this requirement is waived for Alfred Alumni. Course location and dates are subject to change. Please see the posted schedule for full program dates.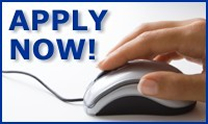 Course Transfers
Non-AU graduates are allowed to transfer up to 6 credits of coursework that conforms to the areas required for licensure. AU graduates who have not met the 6 credit limit in the Master's program will also be able to transfer courses up to the 6 credit limit. However, the courses must correspond exactly to the coursework in the program, as these are delineated by state regulations.
Don't Wait. Complete Your Certificate of Advanced Study in Mental Health Counseling and Further Your Career in Education Now.
Call us toll free at 1-877-922-2483 or contact us today to get your Certificate of Advanced Study in Mental Health Counseling.